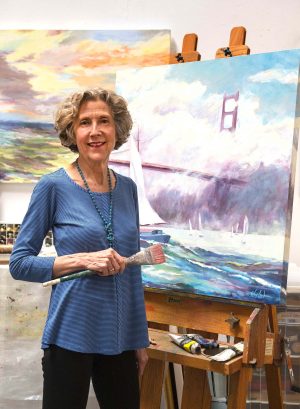 California Colorist en plein air
"My intention is to see beyond the physical qualities within a landscape. I choose locations in which the essence and story are more than contours and lines. My passion is to capture with oil paint the light that illuminates our landscape or water's edge, finding my emotional inspiration at the same historical sources as the California Colorists.
On the coast near my longtime waterfront Sausalito studio I explore when the waves, clouds, and atmosphere create visual drama. In the fields of Napa Sonoma wine country, I work with an outdoor easel and palette vibrant with scarlet autumn vines. I create images which light up people's lives, opening
them to deeper perceptions. I share these paintings as a joyful meditation on seeing, a dialogue in paint with the seasons, water, and land." —Kay Carlson
A plein air /studio painter specializing in Northern California scenes, Kay Carlson's colorful brushstrokes instantly usher her viewers into an emotional connection with the vineyards, and panoramic coastlines she calls home.
Kay Carlson received her B.A. from the University of Wisconsin in English Literature and studied postgraduate painting at the San Francisco Art Institute.
Her accomplishments include over forty solo exhibitions and hundreds of group shows. Solos include the Mondavi Winery, the University of California, and the BankAmerica World Headquarters in San Francisco. Her work has been displayed at the Picasso Museum in Barcelona, Spain, the Extemporanea di Nicola XXI in Tuscany, the Marin Community Foundation, M3Com and Loral Corporations in San Jose, and a host of galleries in New York, Los Angeles, Oregon and California. She was awarded the American Impressionist Society 2nd annual Merit award.


Resume
Born: Wisconsin 1971 Moved to San Francisco
Education:
| | |
| --- | --- |
| 1970 | B.F.A. in English Literature, University of Wisconsin |
| 1972-75 | Post Graduate Study in Painting, San Francisco Art Institute |
| 2005 | Wayne Theibaud critique seminar, University of California, Davis |
| 2007-10 | Jove Wang Workshop, Marin Art School, Novato, CA |
|   | Cedrick Egeli Portrait Workshop, Cape Cod, MA |
Selected Solo Exhibitions:
2016
Madrigal Wine Gallery, Sausalito, CA
2006, 2014
Robert Mondavi Winery, Oakville, CA
2009, 11
Wm Torphy Fine Arts, 255 & 201 California St. San Francisco, CA
Linda Penzur Gallery, San Anselmo, CA
Crome Architecture, San Rafael, CA
2000-94 –11
University of California at San Francisco CA
1996
Sausalito City Hall, Sausalito, CA
1994
Bank of Marin, San Rafael, CA
1992
Amex Corporation, San Rafael, CA
1991
University of Wisconsin Wood County Center, WI
1989
BankAmerica World Headquarters, San Francisco, CA
Selected Group Exhibitions:
2021-22
Sausalito Chamber of Commerce Center, Sausalito, CA
2019
TedXMarin Artist Showcase, online juried exhibit
2018
Marin Civic Center, 25th Anniversary Marin Open Studios, San Rafael
2015
Google, San Francisco CA
2015-17
Lymelight Foundation "Dart for Art" juried art auction
2012 & 2017
Marin Community Foundation, Sourcing Color, Novato, CA
2012
Robert Beck Gallery, San Anselmo, CA
2011
Museum of Contemporary Art, Novato, CA
Gumps' of San Francisco, CA
2009-10
Pearl Canyon Gallery, Carmel, CA
2008
Claudia Chapeline Gallery, Christo's Curtain Stinson Beach, CA
2005-6-8
Charles Campbell Gallery, San Francisco, CA
Marin/Scapes, Escalle Winery Exhibition, Larkspur (also 1992-96)
From the Artists Hand, Marin Civic Center, San Rafael, CA
525 Market Street Corporate Exhibit, San Francisco, CA
2003
Extemporanea di Nicola XXI, Nicola, Tuscany, Italy
2002
Outside in, Inside Out, Picasso Museum, Barcelona, Spain
2001
"A Personal Need" Manuel Neri's Collection, Benicia Art Center
American Impressionist Society, Wm Lester Gallery, Point Reyes St
101 California Street Red Umbrellas Exhibition, San Francisco, CA
1999-2010
Falkirk Annual Exhibition, Falkirk Cultural Center, San Rafael CA
1997-2019
Sausalito Art Festival, Sausalito, CA
1997
 
Hearst Art Gallery, St. Marys' College, Moraga, CA
1991-7-9-22
Mill Valley Art Festival, Mill Valley, CA (poster 2004)1995-98-00
1995
Nordic Five, Carnegie Art Center, Turlock, CA
1993-2022
Marin Open Studios, Sausalito CA
1991-2022
Industrial Center Building Annual Open Studio, Sausalito, CA
1991-94-02
Bolinas Museum Miniature Exhibition, Bolinas, CA
1991
Grants Pass Museum of Art, Grants Pass, OR
1990
LEAA Southwest Regional Exhibition, New Mexico College, Hobbs
 
3 COM Corporation, Santa Clara, Ca & Loral Corporation, San Jose
1989
Jan Holloway Gallery, Marin Six, San Francisco, CA
1984
Sarah Rentschler Gallery, New York City, New York
1979
Kathryn Markel Gallery, New York/ Source Gallery, San Francisco
Awards/Commissions
| | |
| --- | --- |
| 2022 | Shades of Blue, Bronze Award, Camelback International Gallery |
| 2004 | Poster for the Mill Valley Art Festival, Commission |
| 2000 | American Impressionist Society 2nd Annual Merit Award |
| 1991 | University of Wisconsin Honorarium and Guest Artist Lecture |
Teaching/Art Related Employment
2012-22
Marin Open Studios Executive Director, Founder in 1993
2013-21
ICB Artists Association Board Member, Sausalito, CA
2018
Juror, Sausalito Art Festival
1997-00
President & Board Member, SIGHT/INSIGHT Art Center, Mill Valley
1998
Project Director Underground Gallery, Downtown Art Center San Rafael
 
PROJECT DIRECTOR & FOUNDER, MARIN OPEN STUDIOS
1992-19
Tamalpais Community Education Teacher, drawing, painting
College of Marin Instructor
2012
Marin Arts Council Board Member (previously 1990-94)
Selected Collections
BankAmerica Corporate
Collection, San Franciso, CA
Manuel Neri, Benicia, CA
University of Wisconsin, Madison, WI
Intel Corporation, Boston MA
U.S. Department of Labor, San Francisco CA
Vijay Mallya, Sausalito CA
Environmental Protection Agency, San Francisco
Chuck Curley,Larkspur CA
Fireman's Fund Insurance Company, Seattle WA
Peggy Haas, Ross, CA
Robert, Magrit Mondavi, Oakville, CA
Sim Vander Ryn,Sausalito CA
Federal Home Loan Bank, of San Francisco, CA
Peter Sullivan, SanFrancisco
Roberta Romberg, Napa, CA
Marc Weill, Greenbrae,CA
Maureen Blanc, San Franciso, CA
Maureen Bluedorn, New York
Pierre and Maureen Guidetti, Mill Valley, CA